Feb. 2017 – entered into a sales cooperation agreement with Consista, a Danish IT sales company
Nov. 2016 – Bureau Nova IVS, a Sales Agent company, is established, covering among other direct sales or sales through others of Tasklift, Bitrater products etc
Aug. 2016 – entered into an sales agent agreement on the Danish / international market with "The Green Wrap" who offers an ecological and natural alternative to preserve our food fresh, and thereby diminish waste of food, once getting to the homes, restaurants etc. Our society demands more and more responsible use of materials with the environment. In our kitchens we use a lot of plastics, often for a short period of time.
July 2016 – entered into a cooperation (sales agent agreement) on the Danish and German market with Resiblock, who enhance & protect paving with block paving sealers www.resiblock.com and www.resiblock.dk/da.
June 2016 – The Future City of Africa conference was called off, due to lack of support; the World was not ready!
Mar. 2016 – Caregore Consulting is advising Itolead reg. various initiatives in Egypt. Itolead launched, at a conference in Egypt, the Blue Valley initiative, planning to create a city on the shore of the new Suez Canal, where focus will be on Sustainability, Innovation, Cooperation and development
Jan. 2016 – Caregore Consulting became advisor reg. Sales and Marketing for Tasklift, a start up company. Tasklift is a mobile (app driven) compliance and knowledge sharing system, that integrates all human process related resources, and it secures – in a simple (Cloud based) manner – documentation of all activities being done, as they are being done / executed. Documentation is thereby secured being done by those (often blue collar) persons, actually performing the tasks / works in a given organisation, whereby the organisation consequently releases costly (often white collar) resources, traditionally having to (doubble) check the quality, extend and timing of the work done. The documentation system will create significant value in organisations, companies, projects and in businesses of any kind, domestically as well internationally – being developed to be or become compatible in most languages. See www.tasklift.com
Jan. 2016 – The organisation of Future City of Africa conference has been taken over by Phønix Panel, a group of city Innovation and Place Branding experts
Dec. 2015 – Participated together with Itolead in a conference in Cairo, Egypt, focus being Mega projects in Egypt
Oct. 2015 – The five (5) independent companies, Maritime Business (www.maritimebusiness.dk), MSR-Consult, Karin Tankers (www.karintankers.dk), ITOLEAD Consulting Aps (www.itolead.com) and Caregore Consulting, have entered into an (umbrella) cooperation, "The Maritime Consultancy House", or in short, "MarconHouse" – related to 'maritime consultancy and advisory services'. The intention is to be the preferred point of contact for and offer to the maritime industry the necessary, optimal, correct, quaility based, effective and comprehensive services, suitable today and in the future, provided by maritime experts, individually or as a team, comprising two or more of the companies, securing that the different maritime segments are covered, in general and in connection with the various tasks. See www.mariconhouse.com
Aug. 2015 – Caregore Consulting has become member of Network Denmark, Network Group Board Inspiration – East (Denmark) 2, http://nd.dk/grupper/board-inspiration-oest-2.The group is targeted persons from companies in Eastern Denmark interested in and having some experience in board work. Experience may come from board work or through close interaction with a board. The background can be as owner, as executive director, section director or from similar function having skills that can contribute to the Board's combined professionalism and leadership force.Network Denmark is part of Executives Global Network, http://www.egn.com/
July 2015 – Started a cooperation, as Ambassador and Advisor, with Innovation Embassy, a Danish group of Entrepreneurs, working on setting up a conference in 9.-11 June, 2016 in Nairobi, Kenya, referred to as "The Future City of Africa". The aim of the conference being to bring together the brightest minds of Africa and abroad to rethink the role and the structure of the future city, by Africans for Africans, trying to answer the key questions: how to see the population growth not as a problem but as a resource for development in the high tech city of the future. The main themes of the conference will be: Smart cities and innovation, Infrastructure and business models of the future, Urban planning, Architecture and sustainable development and Communities and citizen engagement.
March 2015 – Became Member of the Advisory board and Associasted Consultant in ITOLEAD Consulting. www.itolead.com
Oct. 2014 – Participated in a Course. Online Marketing at Bigum & Co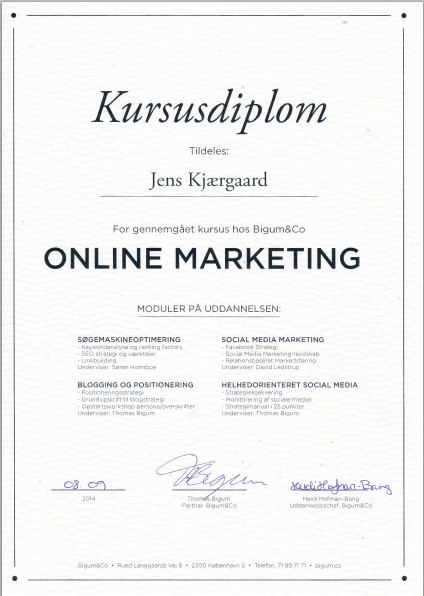 Oct. 2014 – Participated in a Course, "bestyrelsesskolen" (board school) at Økonomisk Ugebrev, Deloitte and Bech Bruun
Oct. 2014 – An advertisement for Caregore Consulting in the Oct. newsletter from "Økonomisk Ugebrev" regarding "Bestyrelsesarbejde og ledelse i små og mellemstore virksomheder" (Boards and management in SME) was placed together with a review of the book "Sørens Saga", about the Tragedy of Søren Langvad and Pihl & Son
SMV nr. 9 – 2014 (inkl. Caregore Consulting advertisement), extract (1)
SMV nr. 9 – 2014 (inkl. Caregore Consulting advertisement), extract (2)
Sep. 2014 – Together with newly started company, Link Consult ApS, we are developing and implementing QHSE & R Management systems in Danish SME companies
Aug. 2014 – I recommend – jeg anbefaler Klaus Winkels nye bog om Danmarks udviklingsbistand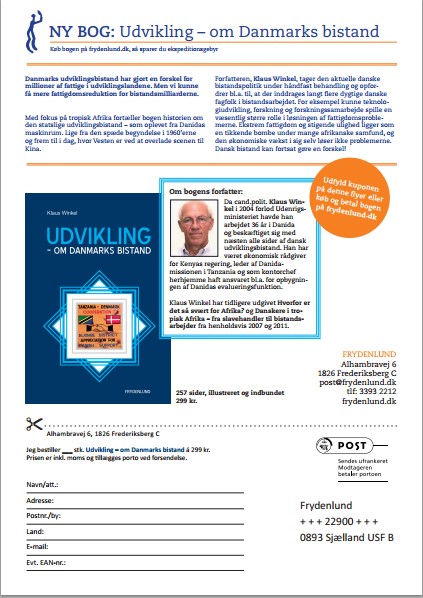 Aug. 2014 – The three companies, Nordic Marine Service A/S from Denmark, Baltic Taucherei und Bergungsbetrieb Rostock GmbH from Germany and Svensk Sjöentreprenad AB from Sweden have formed Marine Service Partner Joint Venture (in short MSP-JV), having its registered place of business in Denmark.
The cooperation between these three professionally operating companies from the Maritime sector is well prepared to perform works and deliver marine or marine related services of any kind in, under, on or adjacent to the water as well as on shore, meeting all the requirement of the customers, being involved in Marine Works projects such as immersed tunnels like the Fehmarn tunnel, bridges, harbors, wind farms or other off shore works.
MSP-JV has compiled their best human and equipment (technical) resources and is adhering to the highest standards when it comes to Quality, Safety and Environment (QHSE) and when performing the works, delivering the services and / or cooperating with others.